Description
LifeAfter Game Description
Survivors, A Brand New Version of LifeAfter – 'Humanity Restoration Plan' is coming. Repair Railroad to go to the New Levin suburb area, build your New Cohabitation Manor with your roommate, ride a Motorcycle to break out from the enemy, and don't forget to check out your Revolver and Shield.
Delivery Instruction for LifeAfter Credits Top-Up :
First, place your order and contact live chat with your order number.
Next, provide us with your User ID and Server ID as shown in the picture below.
After that, please wait patiently for the Credits to be credited to your account within 30 minutes.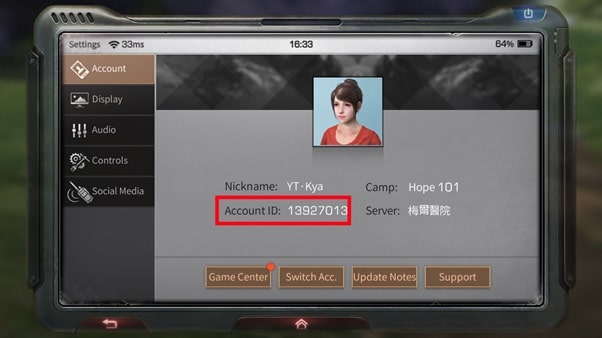 The Vast Open World Expanded
The frontiers of the Doomsday World expand again. Survivors set sail to explore five mutated seas, each of which is characterized by its main feature—crystal, fog, filth, fire, and vortex… These mysterious and dangerous seas are waiting to be conquered.
From snow mountain to beach, from forest to desert, from swamp to city… The vast Doomsday World is full of crises, yet offers endless possibilities. Here, you need to scavenge resources, build infrastructure, fend off zombie invasions, and build your own shelter.
Discover an Expansive Open World in LifeAfter
The boundaries of LifeAfter's post-apocalyptic world have expanded once more. Survivors now have the opportunity to explore five distinct, mutated seas – Crystal, Fog, Filth, Fire, and Vortex. Each sea poses its unique challenges and mysteries, beckoning the brave to conquer them.
Travel from snowy mountains to sandy beaches, dense forests to barren deserts, and swamps to urban landscapes. The vast Doomsday World teems with danger but also presents limitless possibilities. Scavenge resources, construct infrastructure, defend against zombie invasions, and create your own secure shelter in this treacherous world.
Hold on to Hope in the Face of Adversity
Doomsday has arrived, and zombies have overrun the world, causing the collapse of social order. As you navigate the dangers of the apocalypse, including hostile new Infected and massive mutant creatures lurking in the doomsday seas, remember to remain calm and resourceful.
The danger lies around every corner, but your determination and survival instincts will help you persevere in this unforgiving world.
Forge Friendships with Fellow Survivors
During your travels, you'll meet other survivors seeking refuge from the apocalypse. If the loneliness of the journey and the constant threats become overwhelming, consider opening up to others. Share resources, exchange stories, and work together to build a peaceful shelter.
Experience the Revenant: Half-Zombie Survival
An organization known as Dawn Break asserts that there is hope for humans bitten by zombies. By becoming a "Revenant," you can abandon your human identity, appearance, and abilities, embracing a new existence in a half-zombie state.
While this choice might be risky, it could be the difference between life and death in a world where every decision counts. Weigh your options carefully and adapt to the ever-changing landscape of LifeAfter.
Why Choose Topupghorbd for LifeAfter Credits Top Up?
As an authorized LifeAfter Top Up reseller, Topupghorbd offers numerous benefits for your gaming needs:
Various Denominations
Find the perfect package with our wide range of denominations tailored to your preferences.
Flexible Payment Options
Enjoy a seamless purchasing experience with our multiple secure payment methods.
24/7 Customer Support
Our dedicated team is available round-the-clock to address your questions and concerns.
Fast Delivery
Trust our reliable delivery system to provide your LifeAfter Credits promptly and efficiently.
Choose Topupghorbd for a tailored service that enhances your LifeAfter gaming experience.